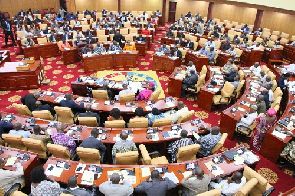 Parliament today during the debate on the report of appointments' committee on 8 ministerial nominees.
The minority took on the finance minister designate Ken Ofori-Atta for stating that government will not pay affected DKM customers because it's not a manifesto promise.
According to the minority, President Akufo Addo as a flagbearer then promised the customers of defunct micro finance schemes in the Brong Ahafo region their investments will be paid by an NPP administration.
Ultimate news' Ibrahim Alhassan reported that attempt by the minority to provide evidence of the promise upon the demand of the majority was nearly blocked by the Speaker throwing the house into a state of pandemonium.
Source: ghanaweb.com