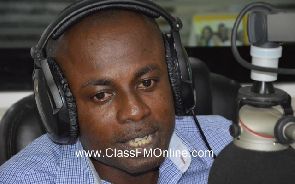 Eric Asante, a 40-year-old teacher who was handed a 15-year jail term for defilement, of which he served 12 before eventually being absolved of the offence after fresh evidence exonerated him, is seeking a total sum of GHS10m from the state in compensation.
Human rights lawyer Francis Xavier Sosu, who is counsel for the accused, told Emefa Apawu on Class FM's 505 news programme that "no monetary figure can compensate Eric for the loss of life because being in prison for that long, if he were out he could have been promoted because he is a teacher, he could have done further courses and do well. He could have gotten married and had children and so on".
For him, Mr Asante has lost the opportunity to properly participate in life and "I think nothing less than 1o million Ghana Cedis should do for compensation for him".
He, however, added that they are yet to activate the process for the state to give them a response.
Background
A five-member Supreme Court panel presided over by Justice Anin Yeboah acquitted and discharged the former teacher on Thursday January 26 after DNA proved that the teacher was not the father of the baby that resulted after the alleged sexual act.
He was sentenced in 2005 by the Tamale High Court for defiling one Rubamatu Mohammed, then a 14-year-old pupil at the school Asante taught.
Eric Asante was released by the Supreme Court in September 2015 due to his good conduct in jail, having served two-thirds of his term.
Mr Asante, who had an initial appeal rejected, proceeded to the Supreme Court in 2012 and the court ordered for the paternity test to be carried out.
The results, however, indicated that he was not the father of the child. The Supreme Court then asked Mr Asante to apply for compensation from the state.
ghanaweb.com