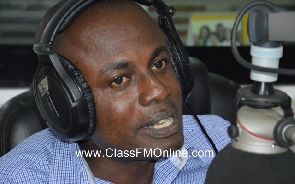 Eric Asante, the 40-year-old teacher, who was wrongfully jailed for defilement, has blamed his initial lawyer for his predicament.
The Supreme Court of Ghana Thursday acquitted and discharged him after spending 15 years in jail.
According to him, he was disappointment by the lawyer who represented him during the initial stages of his trial, leading to his incarceration by a Tamale High court.
He told Naa Ashorkor on The Zone Friday that: "In fact, I was not happy about the way he handled the case."
Explaining why he was not happy with the output of the lawyer, Mr. Asante said there was a pregnancy as a result of the alleged defilement and that the girl had already given birth before the trial at the Tamale High Court and in view of that he asked the lawyer to request for a DNA test.
"But, he [lawyer] did not pay attention to it," he said.
Mr. Asante was jailed in 2005 for allegedly defiling the 14-year-old who was his pupil while he taught at a school in Tamale.
He gained his freedom Thursday following a DNA evidence that revealed that the defilement claim against him was baseless.
According to the Supreme Court, the evidence adduced by State prosecutors some 15 years ago against Mr. Asante could not have supported his conviction.
The court directed that the now acquitted and discharged Mr. Asante should apply in a separate application for compensation.
Francis Sosu, Lawyer for Mr. Asante told Morning Starr that no amount of cash will compensate the injustice done his client.
According to him, they would apply for a GHc10 million compensation but it would not be enough in righting the wrong commitment.
Issac Sappor, a friend of Mr. Asante who called into the show told host Nii Arday Clegg that his friend's conviction was unfortunate and that the allegation leveled against him was concocted.
"It is unfortunate [Eric Asante] had to go through a lot during this period," he said.
He said Mr. Asante once shared with his colleagues before the incident that led to his conviction that his student complained to him [Mr. Asante] of being defiled at home by her step dad.
"Unfortunately, the girl turned the story around and accused Eric Asante of defiling her," he noted.
Ghanaweb.com