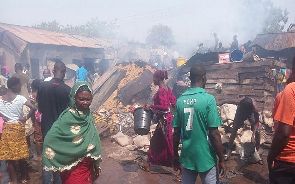 Fire broke out Sunday afternoon at Zogbeli in Tamale razing down completely a nine room residence of a trader and damaging nearly 200 bags of unmilled rice.
The inferno also destroyed more 2, 000 bags of empty sacks and left other properties including monies badly devastated. It took fire fighters more than 3hours to control.
Fire fighters arrived to quell the fire which was spreading fast to other buildings in the untidy slums where people flout building regulations.
A fire officer at the scene said close to 30 people who were thought to be occupants of the burnt residence were absence at the time of the incident. A little boy was taken to safety unhurt.
The officer said the cause of the fire was yet to be determined and couldn't proffer immediate reason for the outbreak.
Owner of the residence Alhaji Abdul Razak Yahaya told Kasapa News he felt empty and that he was more concern about his tenants.
"As I'm standing now I don't know where my heart is because I'm for the house and the tenants too are there. If it were to be only my assets I won't have any problem but my tenants; I have full sympathy for them because nobody expected this to happen", the visibly frustrated landlord lamented.
More than 40 people including children were displaced in the incident and are currently believed to be living with friends and families.
landlord is therefore calling for immediate aid packages from the National Disaster Management Organization (NADMO) for the stranded families.
Ghanaweb.com