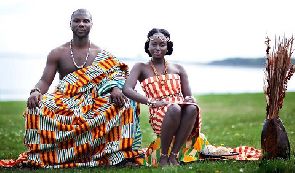 1001 reasons why you should go for Kente cloth
Kente is an indigenous Ghanaian textile that has won the hearts of many over the years. With its conspicuous colors and amazing designs, one can only wonder at the human ingenuity and creativity behind the manufacture of Kente.
It was usually reserved for important occasions in the past and it is one craft that has survived the influence of slave trade and colonialism in Ghana and still continues to flourish in contemporary settings. Kente is used in a variety of ways and for different occasions.
The designs and motifs in the Kente cloth are all symbolic and speak of the ideologies and world view of the Ghanaian people. Kente comes in different variety and each one has a name. Some of them include 'Fathia Fata Nkrumah', 'Akosombo Nkanea and Nkyinkyim, Oyoko Man, 'Sika Free Mogya', 'Nsoroma', 'Babadua', 'Edwin Asa' among others.
Kente is a symbol of pride and social status as chiefs, elders and wealthy people wear them to reflect their nobleness and affluence. In recent times, the cloth has become accessible to everyone who can afford to buy them. Darker shades are for melancholy, grief, sorrow, and mourning whereas lighter shades are for happiness, victory and for funerals of people who pass away at an advanced age.
Kente is used in rites of passage such as puberty rites, funerals, festivals, installment of chiefs and priests and naming ceremonies. Again, it is used for parties, church services among others. In recent times, Kente cloth is used for making accessories for body adornment such as bags, shoes, necklaces among others. In addition, it is for used for national and public occasions, and political functions. The recent swearing-in of Nana Akuffo Addo, the President of the Republic of Ghana, saw the display of Kente at its best.
Guests came to the program in assorted and vibrant Kente colours in all of its grandeur. Some Chiefs and queen-mothers as well as guests were fully adorned in eye-catching Kente piece. The President was not left out. He came in wrapped with a unique type of Kente called 'Obama' which is a mixture of Kente strips and embroidery designs.
Legends have it that Kente was discovered by two hunters, Kruagu and Ameyaw from Bonwire in the Asante region of Ghana. They are said to have chanced on a spider making its web. They studied this skill over a number of years and began weaving textile with a loom and yarns. One Otaa Kraban is said to have mastered the craft and wove a good design known as Oyokoman and presented it to the Asantehene.
The Asantehene showed appreciation by creating a stool for this man in Bonwire which exist even till now . Kente strip weaving has been around for a century inspired by royal demand be it Ewe Kent or Asante Kente.
In recent times, companies such as Printex produce fabrics with Kente motifs. The name Kente is said to have come from the Fante word for basket kenten hence the cloth was called basket cloth or kenten ntomah due to the technique of manufacture which is similar to that of weaving a basket but Kente was originally called Nsadua or Nwontoma.
In the olden days, they made yarns from cotton and used it for weaving. Today yarns and thread are sold on the market. There is the traditional weaving method and the modern weaving method. Traditionally, Kente is woven on a traditional loom by putting the thread in the heads (asa) and reed (kyireye). It is indeed great prestige to own a Kente clothe and even wear it for an occasion.
Kente cloth plays a vital role in Ghanaian traditional marriage ceremony. It has become very trendy now for couples to wear Kente for their marriage ceremonies. It can also forms part of the items which the bridegroom gives to the bride.
The couple can also wear Kente cloth during the marriage ceremony.The bride either drape the pieces on her body or sew them into a style of the choice with the Kaba and Slit as the main style of choice. The groom can also drape it or sew it into any style of choice.
Their bright colors add a lot of glamour and beauty to the occasion. It is indeed prestigious for a couple to use Kente for their marriage ceremony. Friends and well wishers also wear Kente to such marriage ceremonies.
Kente is an all purpose piece of textile which is an embodiment our rich cultural heritage as Ghanaians. Our identity as a people is relevant and I believe Kente speaks well for itself in terms of portraying our identity and who wouldn't want to look stunning on that special occasion. Just in case you don't have a piece of Kente cloth, I think this is the right time for you to grab one for yourself and step out in style.